There's so much exciting news I need to share, I hope you'll read through the my whole HOME page to get it all.
I've been working hard on my latest novel, CROSSFIRE IN THE STREET: Lone Jack 1862, about, you guessed it, the Battle at Lone Jack (Missouri) on August 16, 1862. I'm really excited about how it's coming along and am desperately hoping I can get it completed and fully edited by my historical folks, as well as my editor/s for the June release. However, IF I can't get it in a perfect finished state, I'll move the deadline out, as I prefer to put out a book that is accurate in all aspectes, including the historical content, as well as structure and grammar. So be on the lookout. If you don't get my newsletter, email me at dlrogers2@peoplepc.com so you can follow the building of the cover, as well as the completion of CROSSFIRE and all the latest news.


I've joined the Romance Writers of America (Kansas City) writer's group and I believe this is going to be VERY beneficial to me. These folks are all well-published authors and a wealth of knowledge. I'm so thankful to Sally Berneathy for her "mentoring" me and to Sunny Cole for helping me with my story, which I'll tell you about next. They'been SO helpful and kind and I'm so grateful to be affiliated with such a great group of writers. I'm in the process of writing a short story (new for me) for the anthology book they're writing on all the decades in Kansas City from 1800-2010. I'm writing on the Ruskin Heights Tornado on May 20, 1957--and having a BALL! It has re-energized me and made me realize I CAN write at night and I DON'T have to be in my office. I've found my "comfy place" in my bed with my laptop where I work at night. The hours go by so quickly I've spent three hours and it feels like one. That said, I'm kicking around the idea of doing a SHORT STORY book that will either be sold separately OR as an incentive to buy my other books and will be given FREE for purchasing XX number of my current books. I'm so excited that this short story will be a part of the anthology book with the RWA name on it!!!
The audio book is in full swing; however, I've moved the deadline back to April 1st. Amy, my awesome narrator, was cranking on it, but I felt we were still pushing the envelpe too much to shoot for the March 1st deadline. Therefore, if you attend the Raspberry Meadows Arts & Crafts Festival in Lee's Summit (John Knox Village) on March 9th and 10th where I was previously going to "launch" my audio book, and would like to order it, I will happily place that order and send you the CD FREE once they're available.
***I've just spent the last couple months rewriting TOMORROW'S PROMISE: Survival on the Plains (Revised 2017). If you'd like to "update" with a newer version, look for the TOMORROW'S PROMISE with the (Revised 2017) after it to be sure and get the updated version.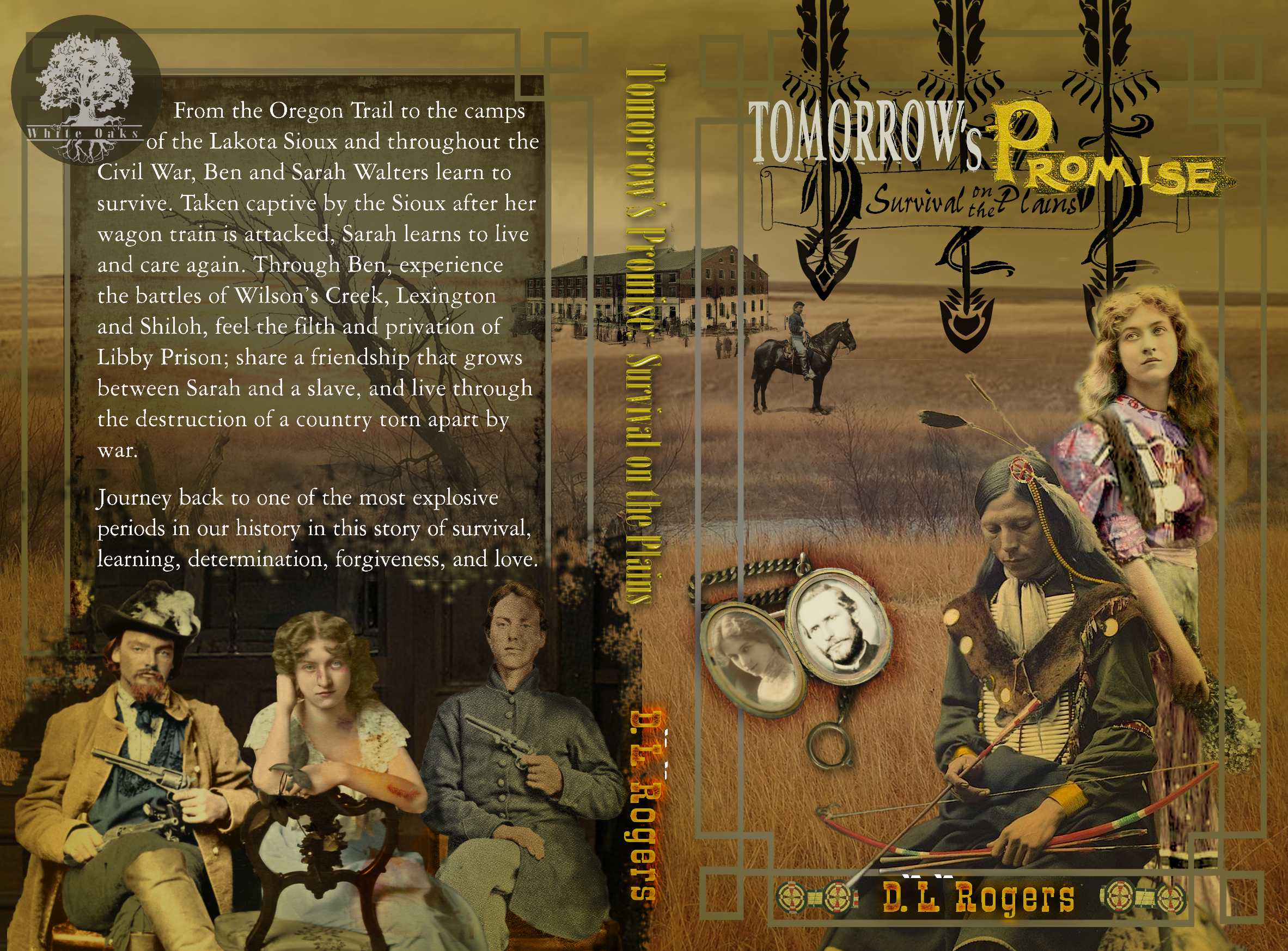 Click on the REVIEWS tab to check out a review from Linda Barta at the Lone Jack Historical Society on ELIZABETH'S WAR: Missouri 1863.
If you're a fan of THE WHITE OAKS SERIES and THE OLD COOTS TRILOGY and are ready for the last book in both the Series AND the Trilogy, THE OLD COOTS: Blue, Gray and Gold is now available in print AND Ebook form at my author page at Amazon at the above link.
Follow me on Facebook at www.facebook.com/dlrogersbooks. If you've read any of my books, stop in and give me a review for all the world to see. Thanks!
If you'd like to receive a copy of my bi-monthly Newsletter, email me at dlrogers2@peoplepc.com and I'll get you on the mailing list for the next edition.
Read the prologue here.