There's so much exciting news I need to share, I hope you'll read through the my whole HOME page to get it all.
I'M FINALLY GOING TO DO AN AUDIO BOOK! Yes, I've been trying to get one done for ELIZABETH'S WAR: Missouri 1863 for over a year, but with Dave's illness and the cost, it just wasn't in the cards--then. Now it seems it is! Yay!!! And the best part is, the gal that's going to do it works with me at my "real" job!!! We can be in contact whenever necessary, she has a following and we're going to get this DONE! So...if you're a fan and want to start listening to my books on audio, get ready, because they're coming! And...if we do well enough with Elizabeth, there are lots more of my books to choose from so I can keep 'em coming! We're looking at a March 1 release date for the audio of ELIZABETH'S WAR: Missouri 1863, so get ready!
THE OLD COOTS: Blue, Gray and Gold is AVAILABLE at Amazon.com and on Kindle. (To read the prologue, scroll down the page.)
***I've just spent the last couple months rewriting TOMORROW'S PROMISE: Survival on the Plains (Revised 2017). If you'd like to "update" with a newer version, look for the TOMORROW'S PROMISE with the (Revised 2017) after it to be sure and get the updated version.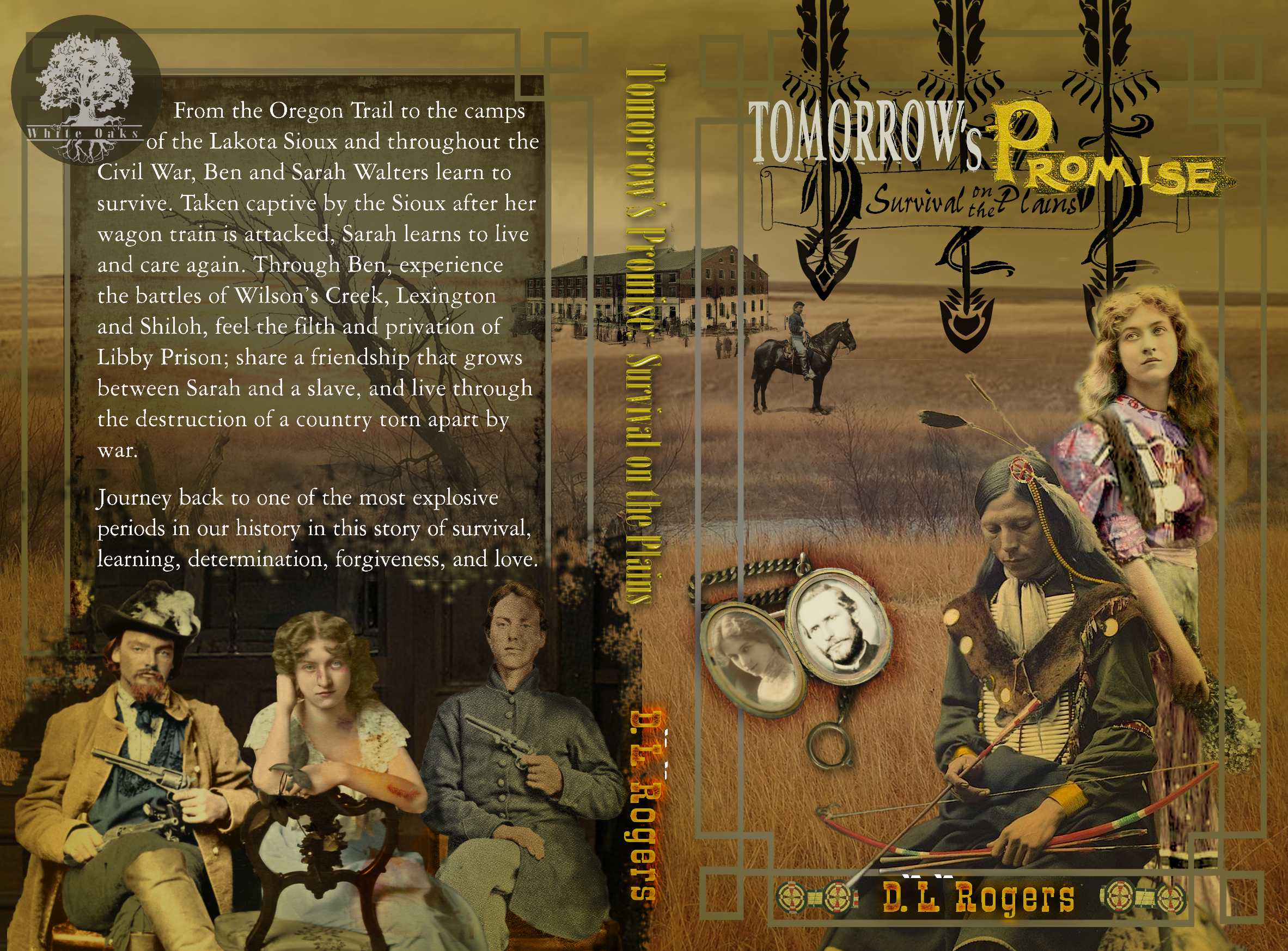 Click on the REVIEWS tab to check out a review from Linda Barta at the Lone Jack Historical Society on ELIZABETH'S WAR: Missouri 1863.
If you're a fan of THE WHITE OAKS SERIES and THE OLD COOTS TRILOGY and are ready for the last book in both the Series AND the Trilogy, THE OLD COOTS: Blue, Gray and Gold is now available in print AND Ebook form at my author page at Amazon at the above link.
Follow me on Facebook at www.facebook.com/dlrogersbooks. If you've read any of my books, stop in and give me a review for all the world to see. Thanks!
If you'd like to receive a copy of my bi-monthly Newsletter, email me at dlrogers2@peoplepc.com and I'll get you on the mailing list for the next edition.
I'VE MADE THE FINALS in The "50 Great Writers You Should Be Reading" and, if you're of a mind, I'd love it if you'd check out my essay and vote. Here's more information on it, as well as the links to view the essay and vote.
What is the
"50 Great Writers You Should Be Reading"
contest all about
?


It's the "People's Choice Writers Award"
While most awards programs hand out awards for books, we believe it is the
ARTIST
behind the book who should be the focus of the award. Most authors overcome tremendous challenges and work very hard to bring their work to market. We look for the 'story behind the story'.

Let's use the analogy of the mother of all contests - The Oscars - where some awards are for best movies, others are for best actors/actresses. Using this analogy, our contest is like giving the Oscar for best actor/actress, not for best movie. Here this means best AUTHOR, not best BOOK.
The contest is about the author behind the book(s)
, which is why we ask participants to write an essay about their writing journey/career,
their expectations as authors, a summary of their body of work and basic information about their books. The public at large is then invited to read these essays and decide whom to vote for.


Why Is This Important?

Authors must build long-term platforms to create ongoing sales and achieve success. People buy books because of the personality BEHIND the work. A great book has very little long-term market value if the author remains relatively anonymous. It is for these reasons our contest focuses sharply on the real story and the personality behind the book.

Award contests must be viewed as being a marketing tool that should be an integral part of the marketing strategies designed by all authors. It takes time to win awards, and the more awards authors win the more recognition for their work they stand to receive, and that helps sell books.

We're now on the last leg of the contest so, if I can ask you once again, please vote one more time...
| | |
| --- | --- |
| November 5 to December 3 | Voting phase 2 |
| By December 10 | Winners are announced |
| By January 31, 2018 | Book is published and available for purchase |
Here's the new link for voting:
Read the prologue here.