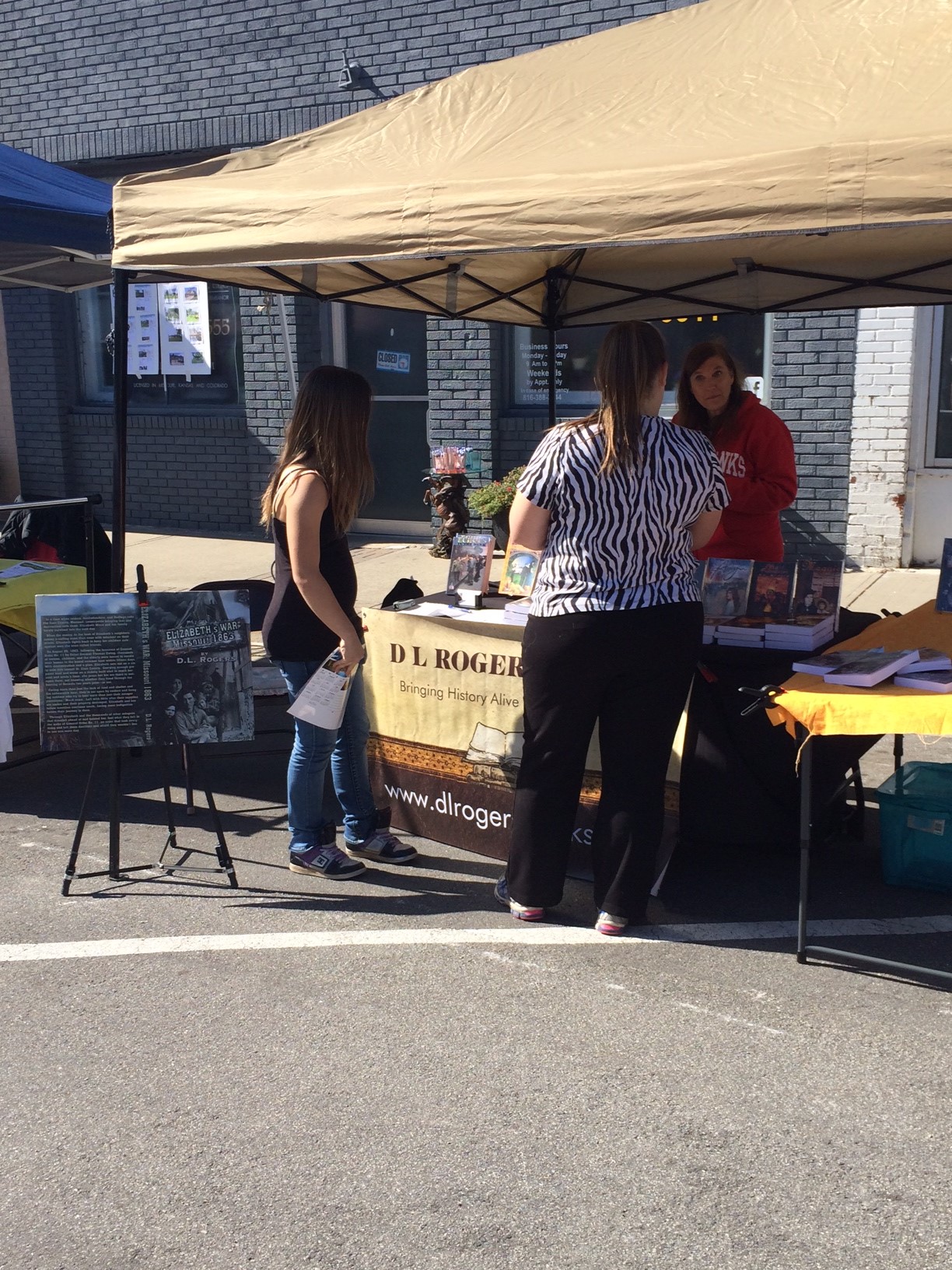 Where do I start to talk about one of THE best events I've ever had--and I've had some GREAT ones this year already! I was at the Belton Fall Festival Friday night and Saturday. If you live in the area, you probably know how Friday night went -- badly, as it was rainy and COLD. I sold three books, but wasn't disheartened, I knew Saturday would be a better day. Sunshine and at least 60 degrees. And...I went prepared for anything with my winter coat and my tent panels (which I NEEDED on Friday night, but not Saturday)!
By two o'clock, I thought the weekend was going to be a bust. I wondered WHERE all my readers were, the ones I recognized from previous years and talked to about my books and their lives. But they didn't come--until after two. Then the flood gates opened and there they were! All of them, it seemed, at one time. So many I had trouble keeping up with my bookkeeping! But that wasn't even the best part about today. The best part was the KIDS! Kids who have renewed my faith in the new generation coming up. The KIDS like Bryan (pictured) who couldn't get home fast enough to start reading BEGINNINGS: Into the Unknown. And Kaden, who couldn't wait to read MAGGIE. But if that wasn't enough, when it was time to go home after selling 41 books today, yes 41 for an all-time record for ONE DAY (not even including last night's sales), six or eight wonderful kids helped me take down my tent and get it and the rest of my stuff to my car. They were AWESOME and I wanted to let everyone know just how awesome they were.
Although it's 11:30 and I'm so pooped I'm having trouble seeing the screen,, I couldn't wait to post this blog, because THESE people, these kids and my regular readers, are why I keep writing. These are the days that make all the writing, all the cold, rainy weather, and all the traveling worth it. Thanks SO MUCH to all my readers, both "old" and new. You're the reason I write, and when I see smiling faces and excitement in the kids, it makes it even better!
Thank you for all your support through the years. God Bless and see you next time.
Diane