Robert Thornhill Interview, September 7, 2014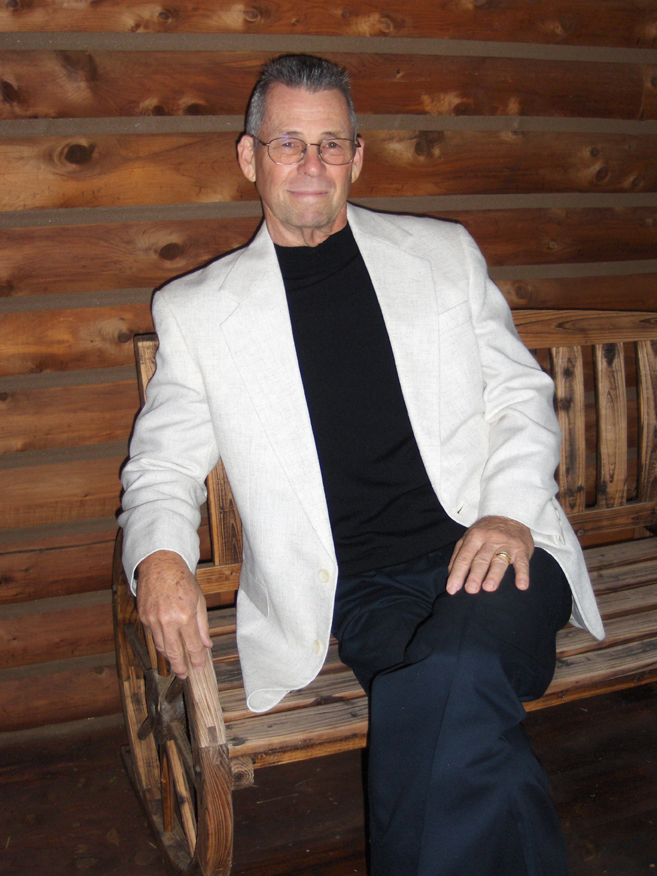 Bob Thornhill, award winning author of the LADY JUSTICE SERIES, is here with us today. Hi, Bob and welcome!
First, tell us a little bit about yourself.
I grew up in a Harrisonville, Mo, a small town about 45 minutes from Kansas City. I was born in 1943. My Dad was in the navy in WW II and my mom and I lived on my grandparent's farm for two years until he returned. There was, of course, no TV or internet or video games, so my Mom and Grandma read to me.
I still have my first book which is 69 years old, Bobbie Had a Nickel. They read it to me so many times that by the time I was old enough to talk, I could recite it from memory. So from an early age, reading was a part of my life. I went from The Bobbsey Twins to comic books. Tarzan, Roy Rogers and Gene Autry became my heroes.
After high school, I held a series of jobs, postman, Wonder Bread man, manager of a thrift store. Then I enrolled in college at the University of Missouri – Kansas City, and earned my Master's Degree. After that, I became involved in real estate and was a Re/Max Broker for the next thirty years.
What made you take up writing at the age of sixty-six after retiring from the real estate industry?
My wife, Peg, & I are avid readers and we each consume a novel a week. A friend of ours turned us on to Janet Evanovich's Stephanie Plum series. We got the first book and immediately fell in love.
We acquired all 14 books in the series that were available at that time, and laughed until our sides hurt.
After finishing book #14, I thought to myself, "Bob, you are just goofy enough to do this." So I sat down at the computer, pretended I was Janet Evanovich, and began writing the next Stephanie Plum novel using her characters and my plot.
I wrote three chapters and printed them for my wife to read. I hid in the office while she read, dreading the verdict. Soon, I heard her cackling in her easy chair. Now, you have to understand my wife. Even though she has a great sense of humor, she's not a laugh-out-loud kind of person.
She came into the office and with a stern look said, "You've got to stop this right now! Forget Stephanie Plum. Janet doesn't need any help. You need to develop your own characters and plot and write your own novel. I know you can do it."
And so began my journey, writing, publishing and marketing my first novel, Lady Justice Takes a C.R.A.P. City Retiree Action Patrol.
I have the privilege of knowing your lovely wife, Peg. You two work as a team in your writing endeavors. What part does she play and how does it help you?
Before retiring, Peg and I worked together as Realtors for many years. Basically, I took care of the contract negotiations and Peg was in charge of marketing.
Working on our sales brochures, she became very proficient in both Photoshop and Publisher.
Now that I'm writing, Peg puts those skills to work creating all the beautiful covers for my books.
She is also my chief editor. Thank goodness!
We have very different philosophies: I'm a 'get 'er done' kind of guy and she's super meticulous. The poor thing goes over each of my novels at least four times before we pass it off to another editor for a final review.
She's my best friend and biggest fan. I don't know what I'd do without her.
In the five years since you began your writing journey, how many books have you written?
In the five years since then, I have written 17 novels in the Lady Justice mystery/comedy series, 7 chapter books for children in the Rainbow Road series, a cookbook and a mini-autobiography.
Wow! That's an impressive number of books in such a short time! I understand the Lady Justice series contain some controversial issues? Does that concern you?
At first, I was worried that explosive topics like religion and politics might turn off some people, but reader reviews were positive. Here's one review I received after Lady Justice and the Sting published:
"With Lady Justice and the Sting, Robert Thornhill has put an exciting and hilarious spin on one of the most important and concerning issues today: our imploding 'healthcare' system.
As the Founder of the New Medicine Foundation, I stay quite busy delivering scientifically backed healthcare solutions to clients around the world, and await the great transformation of our failing drug and surgery based systems. Rarely having time to read for 'fun', it was to my great surprise that Bob delivered to me a manuscript of 'The Sting' just a few days ago. Within just a few sittings I thoroughly digested and enjoyed his work while smiling ear to ear, laughing, and with excited anticipation as he efficiently and amusingly described the foundational and malicious problems behind our failing system.
With 'The Sting' we will have something wonderfully fun and easy to provide for people to read, not only for enjoyment, but to make them aware of how misled the American public has been over the last many decades, as we are literally drugged and fed fake food to our early demise. Nearly more importantly given the current global crisis, the financial criminality and unsustainability behind the system is not only bringing on its own demise, but the demise of our entire country and possibly the current global economic system as we wallow in debt, sickness, mental and physical ailments, and the poor relationships, geopolitical problems, and life experiences that arise from these underlying issues.
This may very well be the 'Rich Dad / Poor Dad' for the healthcare interested masses who are sick and tired of being SICK AND TIRED!
Phenomenal work Bob, you have found a calling and have much more to do!"
Be Well,
Dr Edward W Pearson, MD, ABIHM
I write because I love it and I keep writing because I love to receive correspondence from my readers and fans telling me how much they enjoy Walt and his gang and that they can't wait until the next exciting adventure.
What about your children's series. Where did you get the inspiration for these?
The Rainbow Road series of chapter books for children are all my grandson's fault. His second grade teacher gave the class an assignment to write a book. My grandson, knowing I was an author was eager to share the experience with me.
His little story was about a rainbow, a leprechaun and a pot of gold.
After all the hoopla and praise was over, my wife commented, "I'll bet you could write a children's book. After all, you're just a big kid anyway." With a challenge like that, how could I resist?
I picked up on the little two page story of my grandson, and I wrote about an eight-year old boy and his six year-old sister. They follow a rainbow and discover Rainbow Road which leads them to the home of Lucky Leprechaun. Lucky has a pot of gold coins, but his coins are special as they have the power to give whoever possesses them, super powers like X-Ray Vision and Super Strength.
In each of the seven chapter books in the series, Lucky gives one of the kids a new super power and they're off to a new adventure.
The Rainbow Road books were an instant hit with the kids. When word got around that I had written a series of children's books, I was asked to come to various elementary schools in the area, so now, I dress up in my Lucky Leprechaun outfit and share with the kids my love of reading and writing.
What do you do when you're not writing?
I usually spend at least five to six hours a day at the computer either writing the next book or marketing the last one.
My wife and I have two lovely grandchildren, so we spend a lot of time with them at ballgames, etc.
We also own a little fishing cabin on the Osage River near Osceola, Mo, and I love to spend time there chasing the elusive catfish.
Your most recent book, LADY JUSTICE AND THE PHARAOH'S CURSE, takes Walt and his troupe of retired sleuths to Union Station in Kansas City, Missouri, to investigate a murder at the King Tut exhibit there. Tell us what's in store for Walt and his gang in the Pharaoh's Curse.
I really enjoyed writing Pharaoh's Curse. The moment I saw the ad in the Kansas City Star announcing the arrival of the King Tut exhibit at Union Station, I knew that would be the perfect venue for my next Lady Justice mystery.
The mystery involves an artifact that is stolen from the King Tut exhibit, setting in motion a string of bizarre murders that baffle the Kansas City Police Department.
A local author simultaneously releases his novel, The Curse of the Pharaohs, attributing the deaths to an ancient prophesy, 'Death shall come on swift wings to him who disturbs the peace of the King.'
Walt and his gang of old-timers must decide whether the deaths are the result of an ancient curse or modern day mayhem?
I was so excited with how it turned out, I launched a special marketing program. Over 45,000 readers downloaded Pharaoh on their Kindles and it reached #1 on Amazon
It's been great visiting with you, Bob. I wish you all success with your continuing LADY JUSTICE Series. Where can we get more information on you and find all these wonderful books?
Website: http://booksbybob.com/
Twitter: https://twitter.com/booksbybob
Facebook: http://www.facebook.com/#!/RobertThornhillAuthor
Goodreads: http://www.goodreads.com/author/show/3115172.Robert_Thornhill